Last month, I spent a week alone in the Indonesian paradise island of Bali. It was my twenty-ninth birthday, so I treated myself to an incredible trip of beauty, relaxation, and adventure.
But this trip to Bali was not just a tropical beach vacation.
It was my glorious triumph over a lifetime of hopelessness and pain. We all give meaning to the events in our lives, and taking myself to Bali was a very deliberate representation of my victory over self-hate, misery, and demoralization.
My celebration in Bali is proof that extraordinary things are possible if you FIGHT for your power and your happiness. If, like mine, your fight includes low self-esteem, trauma, or mental disorders, happiness can feel hopeless and impossible—and maybe not even worth it—but it is. It will be.
THE BACKSTORY
Where I Came From
My first suicide attempt was when I was twelve years old. I swallowed an economy-size bottle of acetaminophen and went comatose. That was just the beginning of a spiral downward into a living hell. Severe depression paired with abuse and neglect at home led to compulsive cutting, drug and alcohol abuse, and suicidal tendencies.
By my sixteenth birthday, I was dependent on alcohol, malnourished, unable to stop cutting, and had psychogenic seizures daily. I didn't want to live anymore, and I didn't think I'd make it to my seventeenth birthday. And I wasn't the only one who thought I would die before then.
After long-term residential treatment, I fought my way out of that hell. I worked hard to recover in the years after I survived my childhood. I found strength and purpose and built a dream life for myself.
But that life fell apart around me when I left my marriage in my early twenties.
Back in Hell
The end of my marriage caused a depression deeper and more severe than my suicidal teenage years.
Not only did I lose my family (my husband and the three rescued pets I loved) and my home, but I lost my identity and any belief in love, faith, or hope.
I lost everything meaningful in life.
For years afterward, PTSD became an overwhelming everyday struggle. I was convinced that life was unavoidably painful and difficult, and I could not imagine that I would ever find happiness again. I was completely demoralized and hopeless.
The War's End
FOR YEARS, I fought to find purpose and power again, even though I didn't believe I could. By the time I won that war, I had been fighting for so long that I had no idea how to enjoy life.
I had never done it before! I never thought I was worthy before.
So I shifted my focus from fighting my demons to striving for happiness, safety, and fulfillment. Astonishingly, I enjoy my life now, and—my god—it is a cause for celebration!
WORTH CELEBRATING
Until my mid-twenties, I didn't celebrate my birthday or any other accomplishments (like graduating college two years early after dropping out of high school) because I didn't think that I was worth celebration. I didn't think that my life was worth celebrating.
But now I know that my life IS worth celebrating. I am worth celebrating.
Because TRIUMPH is worth celebrating.
FREEDOM is worth celebrating.
HAPPINESS is worth celebrating.
With my history of low self-esteem, self-hate, and a pathological inability to enjoy myself, celebrating and enjoying myself is a HUGE DEAL.
WHAT BALI MEANS TO ME
I celebrated my triumph by traveling to a paradise island that I had heard magical things about, but never dreamed I would ever go there myself. Bali is just a little Indonesian island, but to me, it represents something much bigger. To me, it was an exotic paradise, an enviable place where only people with amazing lives go.
So giving myself a trip to Bali for my birthday was BEYOND a dream come true, because it was beyond my wildest dreams (to be unapologetically cliche).
Objectively, there's nothing more special about Bali than any other tropical island, but for me it represented freedom, liberation and a dream life.
A QUICK NOTE ON GETTING OLDER
Not surprisingly for a person who has been very close to death several times, I do not dread getting older—I love it!
For the past few years, I've gotten better every year. I've grown stronger, wiser, and so much happier. Each year, I've become more comfortable with and loving toward myself. And I do not expect that to change.
In fact, I'll make sure it doesn't.
Look at the gray hairs at the upper right hairline. Needless to say, the word stress doesn't begin to describe what I've been through in my life, and these gray hairs are proof that I survived it all. I really like them!
ENJOYING MY LIFE AND TRIUMPH
Every Moment of It
I relaxed on amazingly beautiful beaches. I made friends with a sweet beach dog, which made me so happy!
A New Year!
Not only was it a new year for me as I turned twenty-nine, but my trip fell during Balinese New Year!
The day before the new year, there is a gigantic parade. This parade—which passed right in front of my hotel!—is comprised of ogoh-ogohs, which are huge, dynamic, gravity-defying statues of demons meant to scare away evil spirits from the island.
I have never seen anything like these spectacular gravity-defying feats of engineering. It was an amazing party!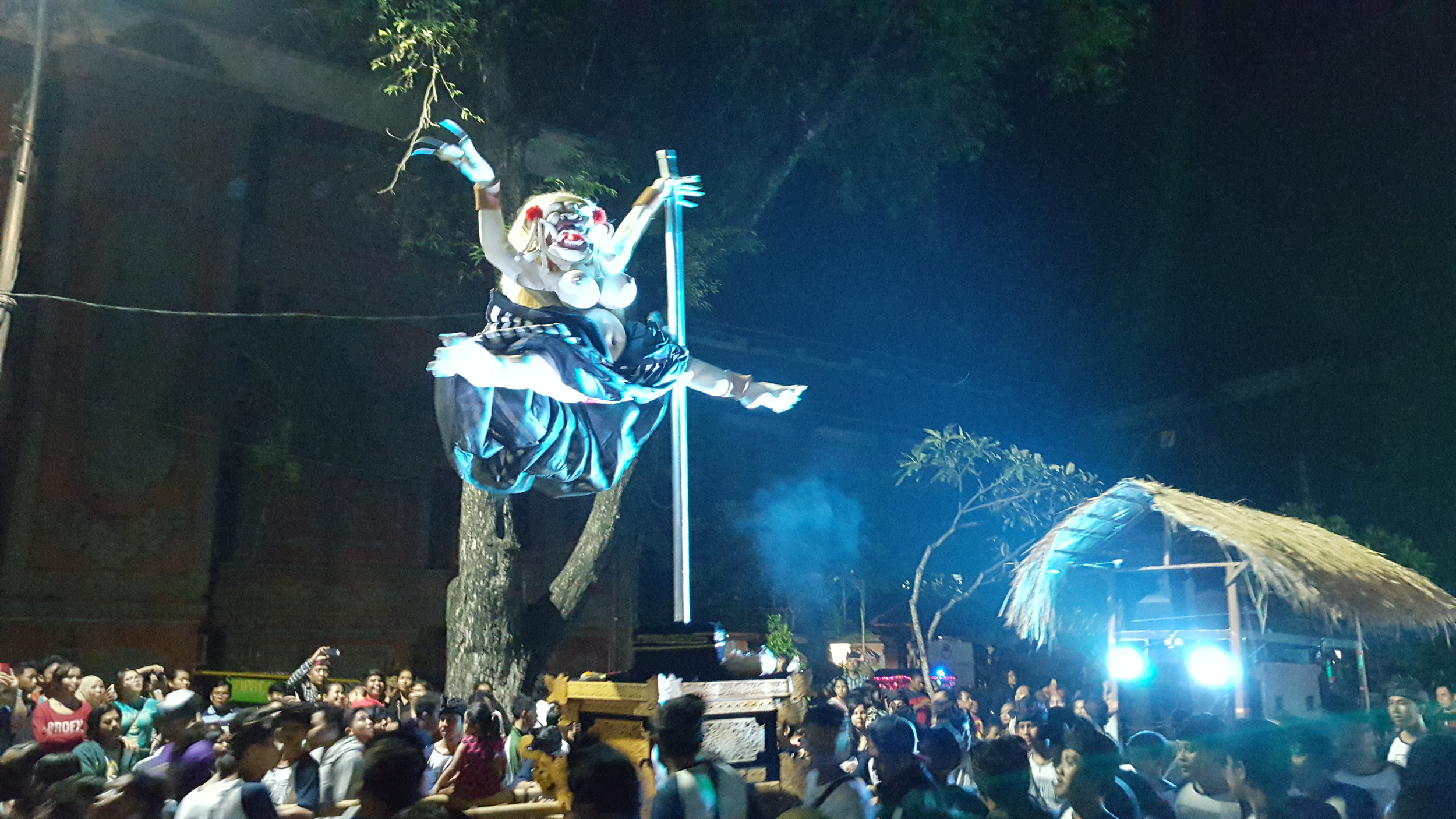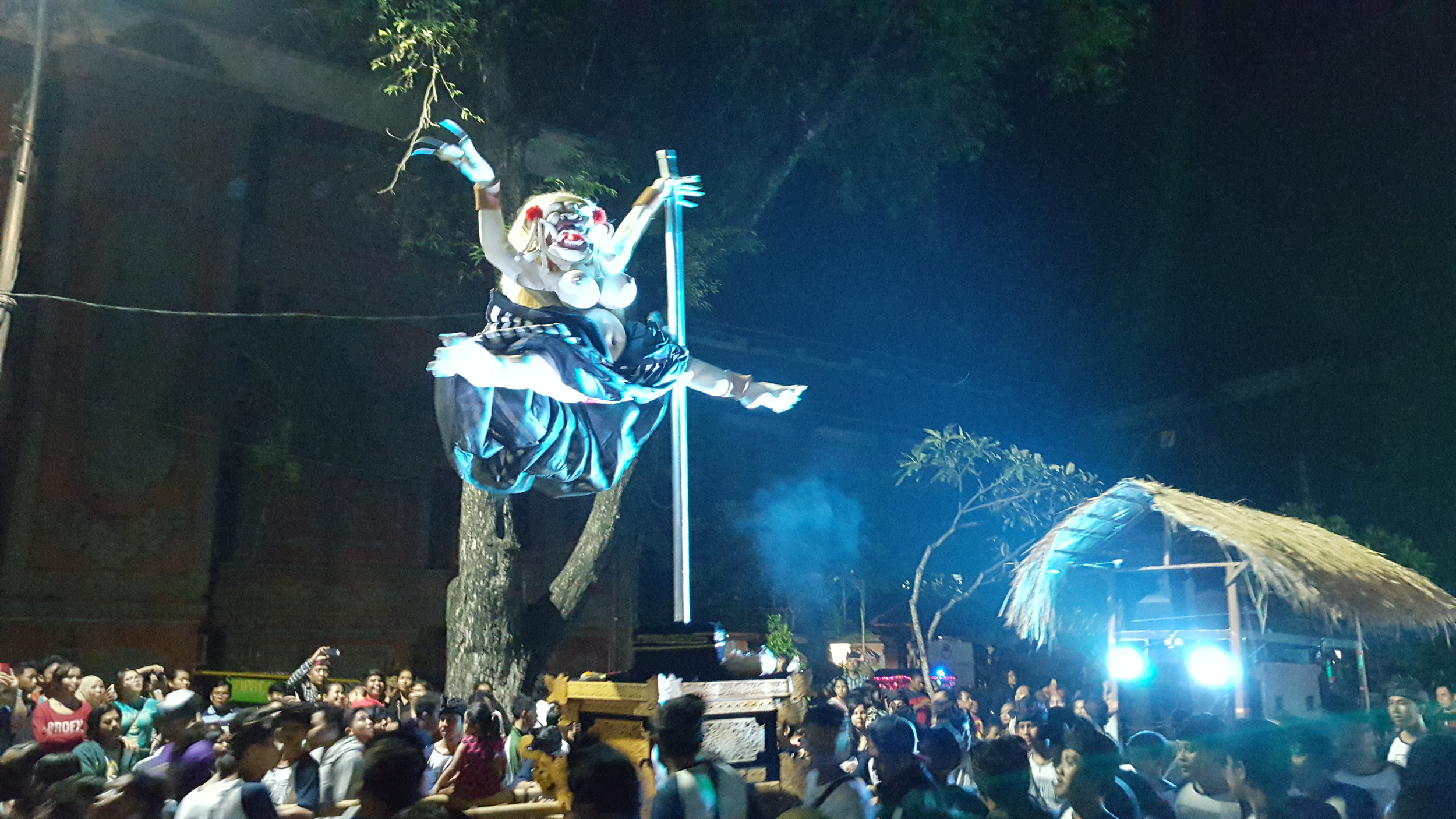 The New Years Day of Silence
The day after the parade is Nyepi, a day of silence and self-reflection. No one is allowed to leave their homes (even tourist cannot leave the premises of their hotels), and the use of electricity is completely prohibited.
I took full advantage of this special day to reflect on the past year, the most momentous year of my whole adult life. (I sold all of my possessions. I moved to the other side of the world. I started my own business! I learned to love myself for the first time in my life.)
As I engaged in deep self-reflection, I felt profound gratitude and self-appreciation for how far I've come. I let life lessons really sink in, and set soulful goals to help apply these crucial lessons in my life.
At night, because there was no electricity for lights on the entire island of Bali, the starry night sky was breathtaking.
In complete, silent blackness, I floated in the hotel pool, gazing up at the Milky Way, a large celestial river of light amid thousands of bright, shiny stars and twinkling planets.
It was one of those completely humbling moments of majesty that at once soothes and invigorates. It was indescribably magical.
Adventures in Paradise
After spending an entire day on meditation and self-reflection—which I've never done before and found absolutely revitalizing and wonderful—I was off on a week of adventure.
I explored all over the island of Bali. At Pura Tirta Empul, the temple of the holy springs, I wasn't so sure about bathing in the very cold water, but I soaked my toes in the beautiful holy springs.
A giant aggressive fish bit my foot while I was taking a photo of the moment! It was so startling, but I hope it means I'll have good luck! In the photo, I caught its purple-blue fin as it's about to chomp.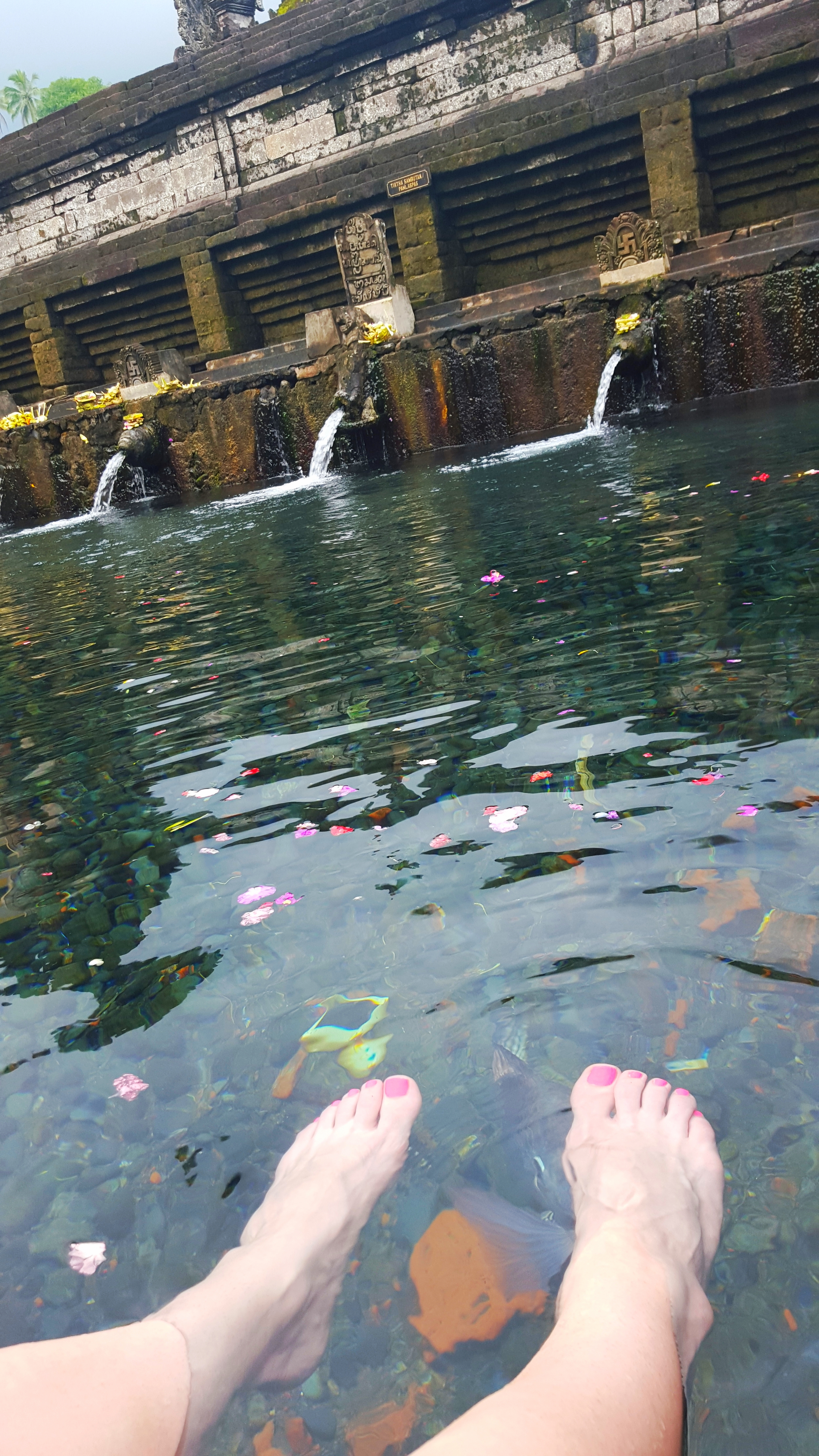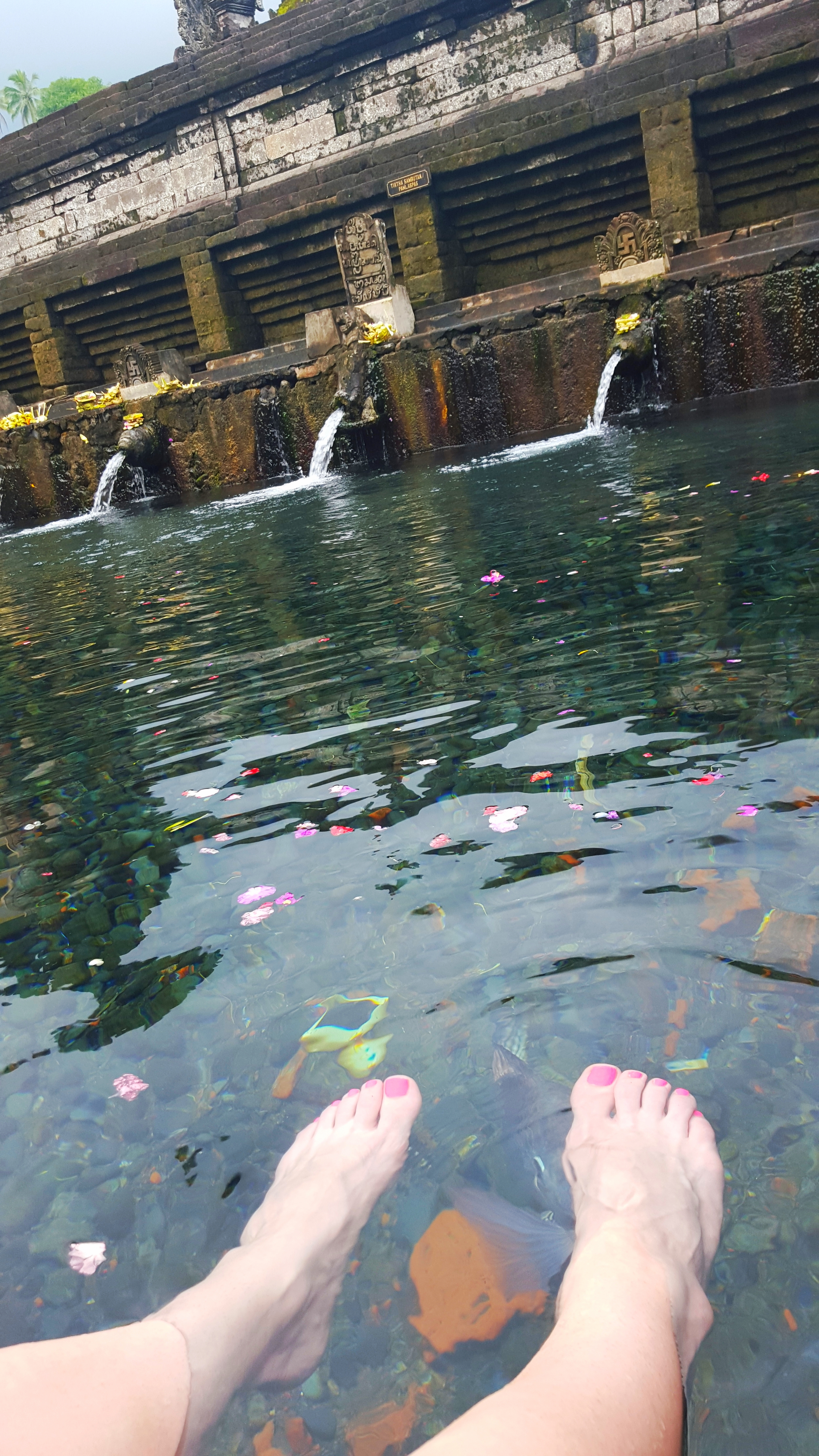 I stayed at two wonderful hotels, one of which was the oldest hotel in Bali, a stately white building with Art Deco details and a beautiful pool (pictured in the parade slideshow above). The other was a gorgeous beach resort with beautiful villas, flowering trees, and carved wooden doors and balconies (pictured in the slideshow below). I was in heaven!
I treated myself to a pedicure on the beach, and a luxurious spa massage.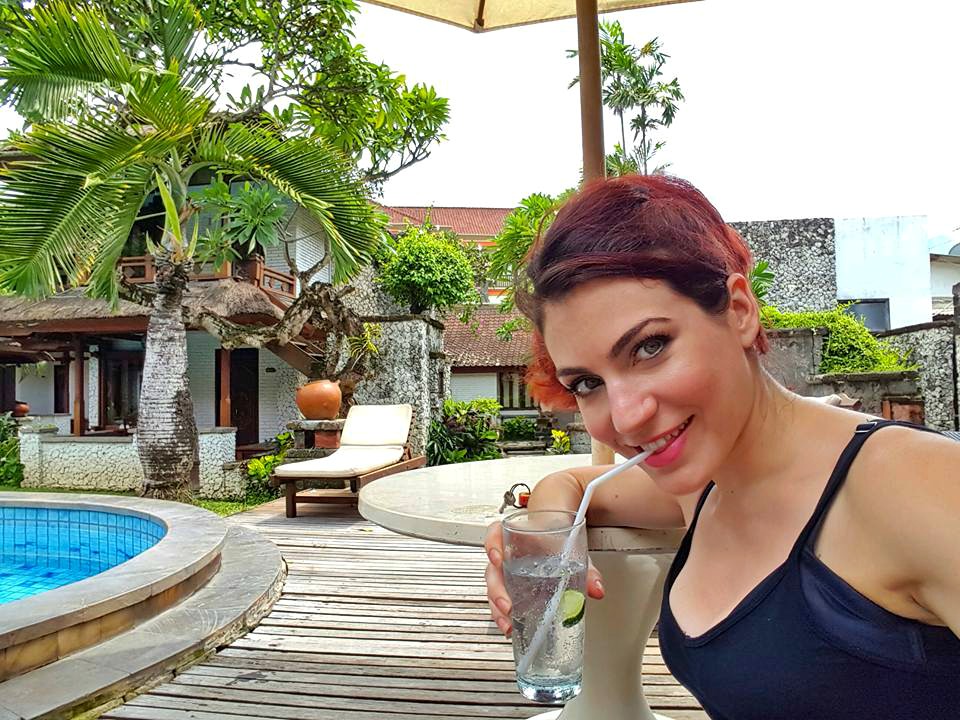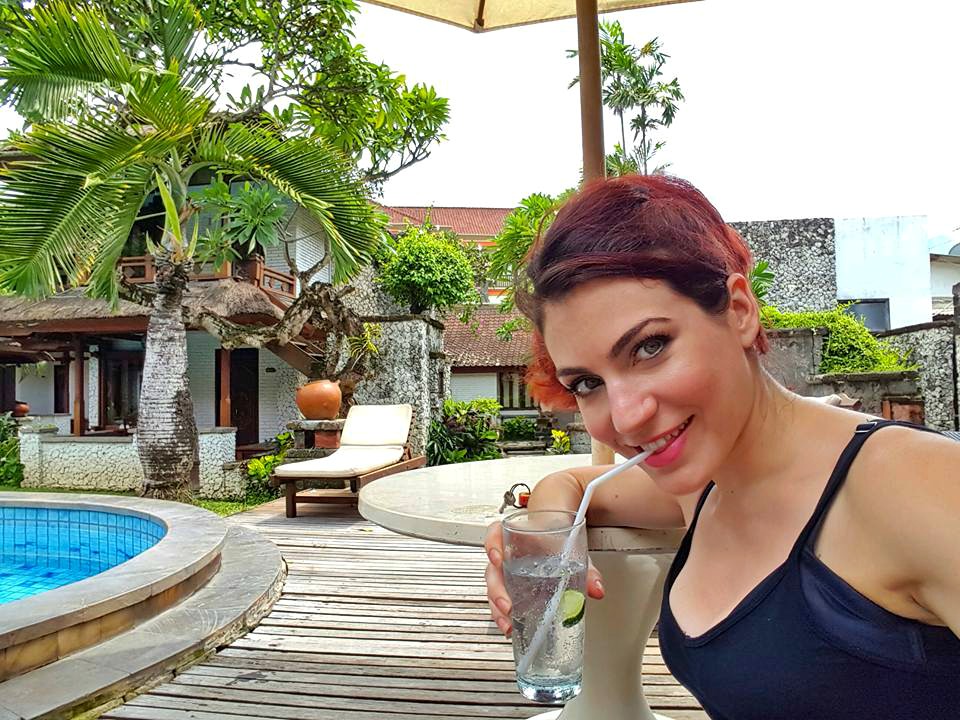 I hiked to and played in a tropical waterfall tucked away among the Balinese rice fields. It was magical and liberating.
Enchanting holy springs were scattered along the trail to the falls. This time, I bathed in the holy waters. Check out the photos of how magical the springs are! Try to spot the handmade sign saying, "HOLY WATER MAKING FEEL YOUNG."
And don't miss the sign advising, "Don't worry, be SEXY!"
Don't mind if I do!
I got to see the iconic rice terraces of Bali that I've envied in photographs.
I enjoyed a Balinese buffet for lunch at a restaurant with an incredible vista, overlooking Kintamani Volcano and Lake Batur below. It was an absolutely stunning view. Needless to say, the pictures do not do it justice.
I visited Pura Tanah Lot, one of Bali's most iconic and holy temples. It sits on top of a unique rock formation off the shore of southern Bali. After drinking holy spring water underneath the temple, I was blessed with a rice bindhi on my forehead and a fragrant plumeria flower behind my ear.
The temple is a popular place to watch the sun set, so I stayed and basked in the glory of the most stunningly beautiful sunset.
Is This Real Life?
Sometimes, I cannot believe that I have come out of my living hell. I can't believe that the girl who yearned for her life to end, taking pills and chugging liquor alone, became the woman I am now.
I can't believe that the same devastated, hopeless woman, who chain-smoked cigarettes until 4 a.m. while bawling from the depths of her soul every night, is living this life.
I want to bask in this triumph as much as possible. It is a humble pride, a gratitude, an astonishment, and an over-flowing heart.
I can't believe I kept fighting. And I can't believe I won.
I TOOK CONTROL
This victory is the result of my taking control of my body, thoughts, and power. TAKING CONTROL over my life is the KEY to being where I am now.
Make taking care of yourself your first priority. No one is going to do it for you. Don't be afraid to give yourself everything you've ever wanted in life. You don't have to settle. You don't have to be a victim to circumstance.
Because YOU always have control over your life. And you can do whatever you want with it.
CLAIM YOUR POWER. To be unapologetically cliche again: If I can do it, you absolutely can.
But you must be willing to WORK FOR IT. It takes hard work. It takes persistence, diligence, courage. But happiness is on the other side. What could possibly be more worth it?
Join me in conquering darkness and living an incredible, badass life!